Finally I am posting up about my package of BBM4. It was really really sweet and lovely, from Rorie, at Milk & Honey. It was flown here all the way from USA.

The whole idea of the package was full with love, also in conjunction with the Valentine. The only thing is I collected the package late, I am so sorry Rorie. The package apparently came much earlier, but I was not in. Then they left a card, asking me to go and collect it at a post office I am not familiar with. The lateness is due to my house people, and my bad habit to only check the mail once in a blue moon for bills. So when I saw the card, it was about a week late, then I got hung up with work and finally got it last week.

On to the package, no more excuses on my side. The package came packed with fabulous stuff. Look at it!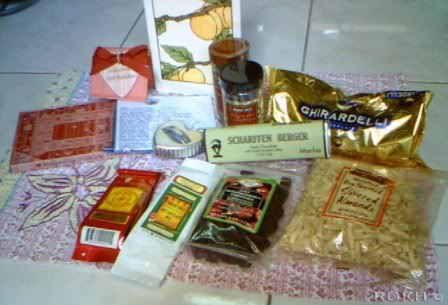 I mean look at it! Looks good isn't it? From the front left, it is a packet of Mexican Spiced Chocolate, and it is just right! I always wondered how Mexican chocolate would taste like, and this is even spiced. No I haven't try it yet, still admiring it. the white packet beside it is another chocloatey drink, which is Green Chile Cinnamon Hot Chocolate Mix. Sounds really interesting! Then next is a packet of Montmorency Cherries. This one, shamefuly, I have snacked finish it. wanted to make oatmeal cookies with it, as Rorie had suggested, but this tart cherries is simply irresistible. One pop and I am hooked. Then it is a packet unsalted dry toasted Slivered Almonds. Yummy! Just my favourite kind of nuts.

Up the top is the Ghirardelli semi-sweet chocolate baking chips! I can imagine all the lovely thing I can bake from this. Just can't wait to have the time again to make my favourite desserts. Then there is also Scharffen Berger Mocha bar (dark chocolate with freshly roasted coffee)! I loved dark chocolate, who doesn't? Next came two bottle of spices, one vanilla beans (finally I got it!) and another is cinnamon sticks.

Other lovely non-food goodies is, you can see a vintage heart cookie cutter (somehow I suspect Rorie knows me inside out, I have all the while been searching for a heart shape cutter, to make lovely goodies for J), then a sweet looking silicon pot holder, a valentine's photo frame (with magnet, now my refrigerator), vintage dish towel, you can see all the one below all the goodies and a well compiled love songs. Oh, and with a personalized card too!

Thanks Rorie for all the goodies! I can't wait to try all of the yummy stuff out and do some baking and cooking with it.