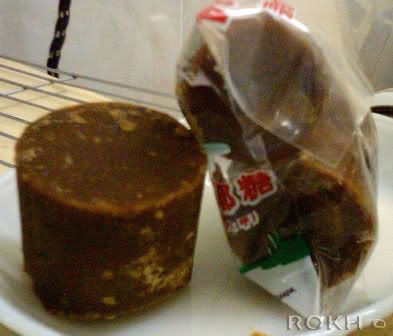 Finally I am back in my hometown. These day it was really hectic for me but I just could not pass out the opportunity to join this month's SHF #15 hosted by Sam in Becks & Posh. So as usual I go for the easiest recipe I can find but of course still very tasty.

Since we are looking for dessert low in sugar and best to feature natural sugar, all I can think of was the Gula Melaka in my pantry. It is an all natural sweet sugar made from the sap of the coconut palm. As the name implies, it is widely known in Melaka and a favourite use among the Peranakans in both meals and desserts. Here in Malaysia, it comes in form of rolled blocks. These sweet rolls have distinct flavour themselves, not light brown sugar or honey or even golden syrup or dark molassess. You got to taste it to know it but as you know, it will always be a star in every sweet recipe if added. Yes it is that distinct.
Gula melaka is usually the star in many of our local Nonya kuih (our local cakes) alongside with the famous pandan leaves that I have kept talking about. It is used to make many other sweet desserts like cendol (I would talk about this nest time). I had even used it to make my macaroons! Really versatile and pair really well with pandan and coconut.
Here I made a really simple recipe using sago pearl. Sago is actually starch from the sago plant which can be made into pudding and is also usually added to many of our local 'tong sui'like my Hak Lor Mai. This time I made sago pudding drizzle over with little bit of evaporated milk and then drown in gula melaka syrup. Heaven!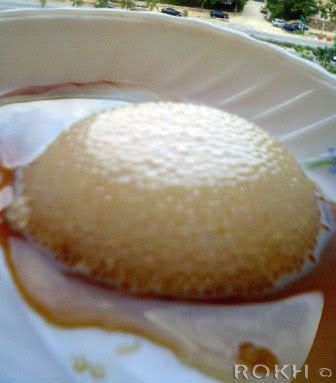 Sago Gula Melaka

The recipe here is in terms of guessing and estimating as it is to modify to suit ones taste, whether you want it really sweet, or less or more milk or vice versa. Besides, the amount yield would also differ according to your pudding cups. I made mine in little bowls since I have none. Ah, displaying my lack of kitchen tools again.

100g sago pearls
50 gula melaka
½ cup of evaporated milk

Bring water to boil in a pot
Add sago pearls to boil for 10-15 minutes or all the pearls are translucent (best to keep stirring as I have some stuck at the bottom once left unattended)
Remove from heat, pour onto a sieve and wash with running water.
Drain excess water and put aside.
Press the sago pearls into pudding cups, packing it tight together.
Refrigerate it for 1-2 hours then serve cold.

Melt gula melaka in a pot or microwave with about ¼ to ½ cup of water to it. (This amount depends how diluted you want your syrup to be. Chill.

When serving, unmould the sago pudding onto bowl, drizzle over with evaporated milk then drown it with the sweet exotic gula melaka and enjoy an all natural sweetness goodness.

Yields bout 6 small puddings or 3 large ones

Tagged with: SHF # 15 + Low Sugar